Activities
Port Stephens, Sydney
Port Stephens Irukandji Shark & Ray Encounters Entry Pass
Port Stephens Irukandji Shark & Ray Encounters Entry Pass
Irukandji Shark & Ray Encounters
Port Stephens, Sydney
English
Flexible. up to 2 hours
Instant Confirm
Standard Inclusions
Attraction opens 9am-5pm, arrive by 3.30pm for the full experience, closed on Christmas Day 25 December.
Includes:
1. Aquarium entry
2. Lagoon entry in Bare Feet
3. Fish food
4. Hot showers
1 Key Facts
Included
Attraction opens 9am-5pm, arrive by 3.30pm for the full experience, closed on Christmas Day 25 December.
Includes:
1. Aquarium entry
2. Lagoon entry in Bare Feet
3. Fish food
4. Hot showers
Not included
1. Transport from/to hotels
2. Food & beverages not listed as Inclusions
3. Souvenirs
4. Travel Insurance
5. Any optional extra items (including but not limited to Shallows Encounter in Wetsuit / Tropical Snorkel / Lagoon Snorkel / Shallows Encounter in Socks / in-water experiences / photo packages) that are not included in the standard admission. All optional extra items are at own expense.
Destination
Port Stephens, Sydney
Address
2 Jessie Road, Anna Bay NSW 2316
How to get there
● By Car
Located approximately 210km north of Sydney Domestic Airport, takes about 3 hours; approximately 25km east of Newcastle Airport, takes about 25 minutes; approximately 12km southwest of Nelson Bay, takes about 15 minutes.

- From Newcastle
When leaving from Newcastle follow the signs towards Nelson Bay. At Salt Ash you will precede through 2 Roundabouts. About 10 minutes later you will come up to a third roundabout. Turn right at the roundabout from Nelson Bay road onto Jessie road and you will head straight into the new Irukandji.

- From Nelson Bay
If you are leaving from Nelson Bay follow Nelson Bay Rd for about 10 minutes. You will pass through the roundabout that turns off towards Anna Bay to your left. Not long after this you will come upon another roundabout. Turn left at this roundabout onto Jessie Road and right into Irukandji.

- Free Onsite parking available

● By Public Transport
Unfortunately there is no direct public transport available. Most visitors drive or arrive on a coach tour. If you do not drive, please book one of the day tours that visits the Port Stephens.
Operating hours

| | | |
| --- | --- | --- |
| Daily | 09:00 - 17:00 | Last tour at 15:30 |
| Christmas Day (25 December) | Closed | |

Check-in requirements
Please ensure you arrive at the ticket office 15 minutes before your scheduled tour time to allow enough time to check in. Regrettably, failure to arrive before this time will most likely be classified as no-show and result in forfeiting the booking and it cannot be refunded or transferred.

If you are not familiar with the area or travelling on a weekend or local public holidays / school holidays, please make sure you've checked your timetable or driving route beforehand, and allow extra travelling time for unexpected delays to ensure you do not miss your check in.
What to bring/wear
● Appropriate clothing for all weather conditions, eg. jacket for cooler months.
● Comfortable enclosed walking shoes
● Towels
● Hats
● Camera (waterproof)
● Money / credit card for optional purchases
Other info
● Minimum dress requirements are shorts and t-shirts or rashies (no swimmers).

● Child Policy
- A person aged 3 to 16 years is classed as a child; and
- For children aged 2 years and under, no admission fee will be charged.
- Youth 16 years and over may enter the facility without an accompanying adult. Appropriate ID or other proof of age must be presented. Irukandji reserves the right to verify the age and identity of any unaccompanied minor or young guardians.
- Children under 16 years must be accompanied by a paying adult, and must remain under the control or supervision of the adult at all times.
- For water safety children under 12 must be accompanied by a paying adult or guardian aged 16 or over in the lagoons.

● Tickets will include entry to most, but not all, areas of the Attraction. Subject to availability and at Irukandji Shark and Ray Encounters discretion, Visitors may be able to purchase additional tickets to obtain access to all areas of the Attraction.

● The Best Time for a Shark Encounter
During winter hours, the quietest times to visit are on weekdays or prior to 12:00 or after 14:00. During summer hours, the quietest times to visit are prior to 10:00 or after 15:00.

【Facility Policies】
● No Smoking
Smoking is strictly prohibited within 20 metres of Irukandji Shark and Ray Encounters building.
● Use of flash is prohibited
Please remember not to use the flash when taking photos or videos as the majority are nocturnal species.
● No Pets
For the safety of your pet and the animals in the aquarium, pets are not allowed in the facility. There is a shaded forest next to the aquarium that may be used to keep them cool, however in the middle of summer it could still be too hot for them in this location. Seeing eye dogs are permitted in the facility.
● Strollers
Strollers are permitted throughout the Attraction. Please be considerate of other visitors as you navigate your way.
● Irukandji Shark and Ray Encounters will endeavor to ensure that as many exhibits as possible are on display. The Service Provider may, however, without prior notice and without refund or compensation, change the operating hours of the Attraction, close the Attraction or any part of it temporarily, restrict the number of persons having access to the Attraction, and/or close any part of the Attraction or interactive program for operational reasons.
● Unnecessary noise (such as that from the use of radio sets and other electrical equipment), or any behaviour likely to cause annoyance disturbance to other visitors and/or animals or confusion of any kind is not permitted in any part of the Attraction.

【What NOT to Bring】
● Your own wetsuits
Unfortunately marine diseases can be transferred in to the tanks if wetsuits allowed that have not been treated into the water. The animals health is the most important thing of all.
● Creams, lotions, repellents
Please don't spray/wipe anything onto your skin before visiting Irukandji. If you want to use sunscreen it must be certified as reef-friendly so as not to leach harsh chemicals into the animal's habitat. Read more about reef-friendly certification here http://haereticus-lab.org/protect-land-sea-certification/
● A Snorkel
Please use the equipment the Service Provider provide so as to avoid possible contamination from other sources. The masks and snorkels are sterilised after each use for your protection and hygiene.

************************************************************************************************************
【Important Post-Covid Service Information】
- Visitors are not permitted to enter Irukandji Property if they:
• are experiencing any flu-like symptoms (sore throat, runny nose, persistent cough, shortness of breath, fever);
• have been in close contact with a person who has tested positive for COVID-19 (during the period of time in which the virus is contagious);
• are awaiting the results of a test for COVID-19;
• reside with anyone who is awaiting the results of a test for COVID-19
• have returned from international travel and failed to observe the government requirement to quarantine for 14 days
• have been in a virus hot-spot in the last 14 days
- Visitors who are subject to any of the above conditions for exclusion must be willing and able to agree to the following requirements to:
• Leave the site immediately if they become unwell, after notifying a staff member;
• Check in to Irukandji using the NSW service application, or give their contact information to staff to keep records according to government
• Wear masks according to the current NSW covid-19 guidelines
• Follow the current Covid-19 vaccination rules
- Please refer to https://sharkencounters.com.au/covid-19-policy/ for the latest updates during the post-Covid period.
2 Overview
Entry to Irukandji is unique, unlike the usual aquarium viewing through glass, guests have the ability to meet the wildlife, pet them, feed them and even share the water with them! The Entry Pass allows guests to wade with into the shallow water of our tropical lagoon in bare feet, being surrounded by many curious and friendly sharks & rays. Wearing your own clothes, visitors stay dry (mostly), with only the feet and legs becoming wet. Stepping into the water with the animals, guests are treated to a whole new level of excitement, fear and admiration.
---
Port Stephens Irukandji Shark & Ray Encounters Entry Pass
About Irukandji
Irukandji's mission is to positively impact the ocean through marine education and introducing visitors to misunderstood ocean predators and providing the perfect experience through fun and fear.
This unique experience is a once in a lifetime opportunity to interact with marine life by joining them in their world. Feeding a natural predator in the wild can create an array of impacts from damaging delicate ecological systems to influencing the behaviors of these animals to associate humans with food. Irukandji takes away that danger with a wide array of friendly sharks and rays just bursting to say Hi.
Irukandji is a massive family, fish and staff alike, whose life dream is to reveal the true character of some of the worlds most beautiful, intelligent, elusive creatures and at the same time educate us about the Australia's delicate ocean ecosystems.
Highlights
Perfect for the less adventurous visitors
Un-believable Aussie experience, great for photos
Wearing your own clothes stay (mostly) dry with only feet and legs becoming wet
Tailored to the individual needs on the day
Indoors protected from the elements
Learn about the animals from the experienced guide
Feeding the Sharks and Rays
Opportunity to touch/pet the Sharks & Rays
Wading into the shallows of the lagoon
The Experience
All visitors will receive a guided tour and are personally introduced to the Fish whilst embarking on an educational adventure. All ages can participate, even tiny infants get to don a wetsuit (Shallows Encounter in Wetsuit at extra cost) and paddle with the sharks, its completely safe.
Learn some ocean secrets and make the most unexpected friends. Irukandji is completely undercover and protected from the elements, it's your year round one stop ocean creature experience and not to be missed.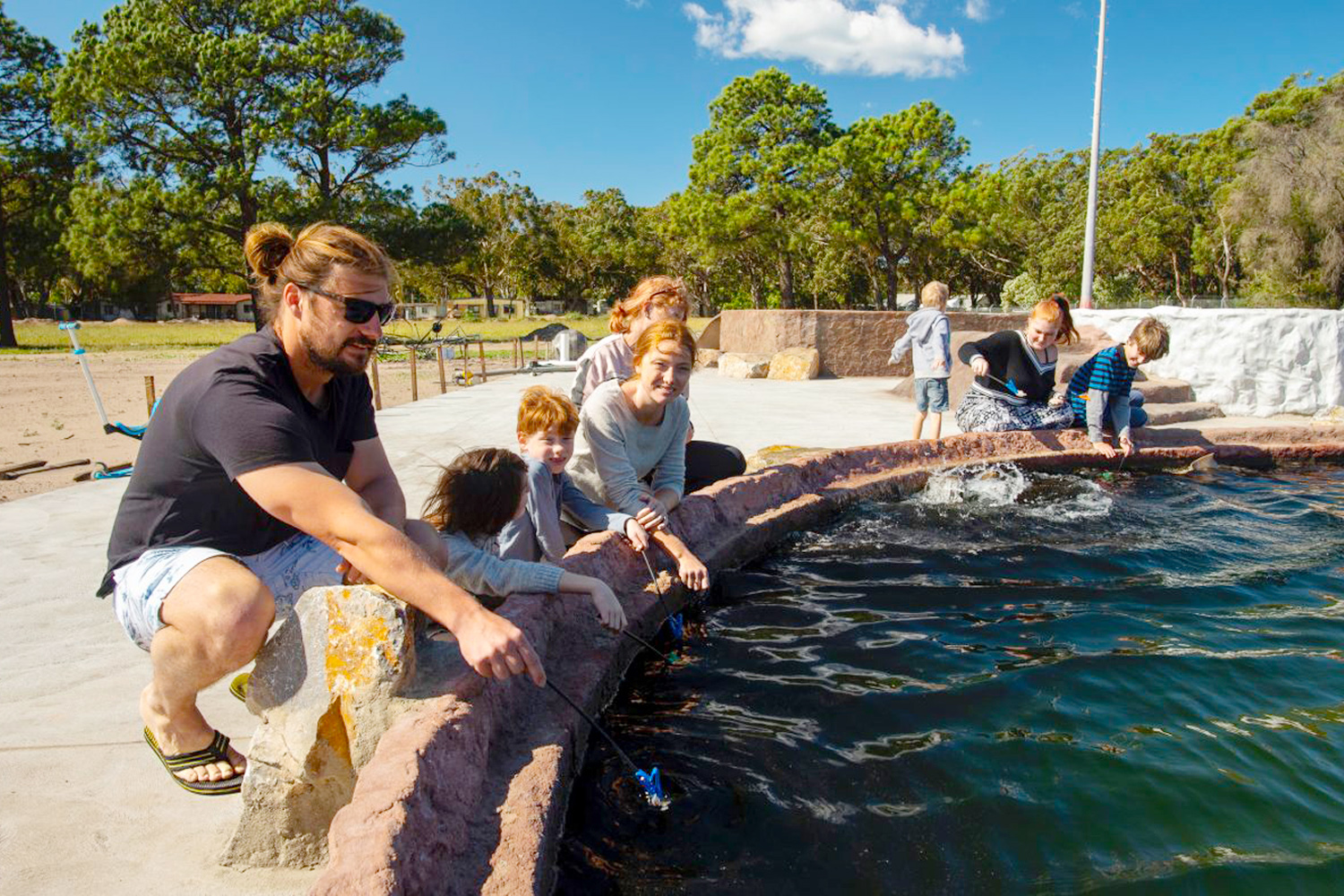 Irukandji Shark & Ray Encounters is an interactive aquarium where you will get the chance to feed and pet a variety of species of sharks and rays.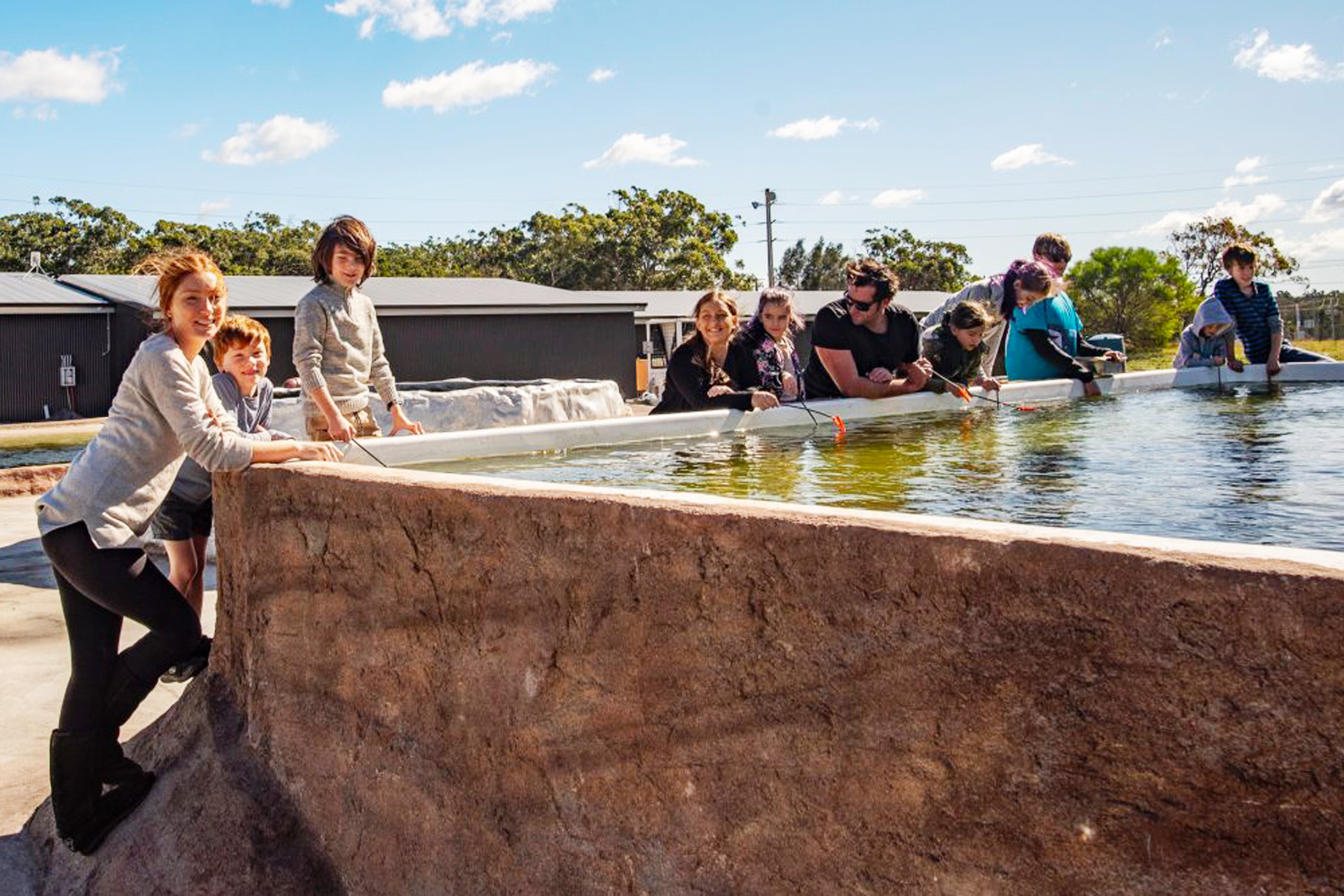 Experienced guides interacting with the animals & guests will also present the entertaining Shark Show every hour.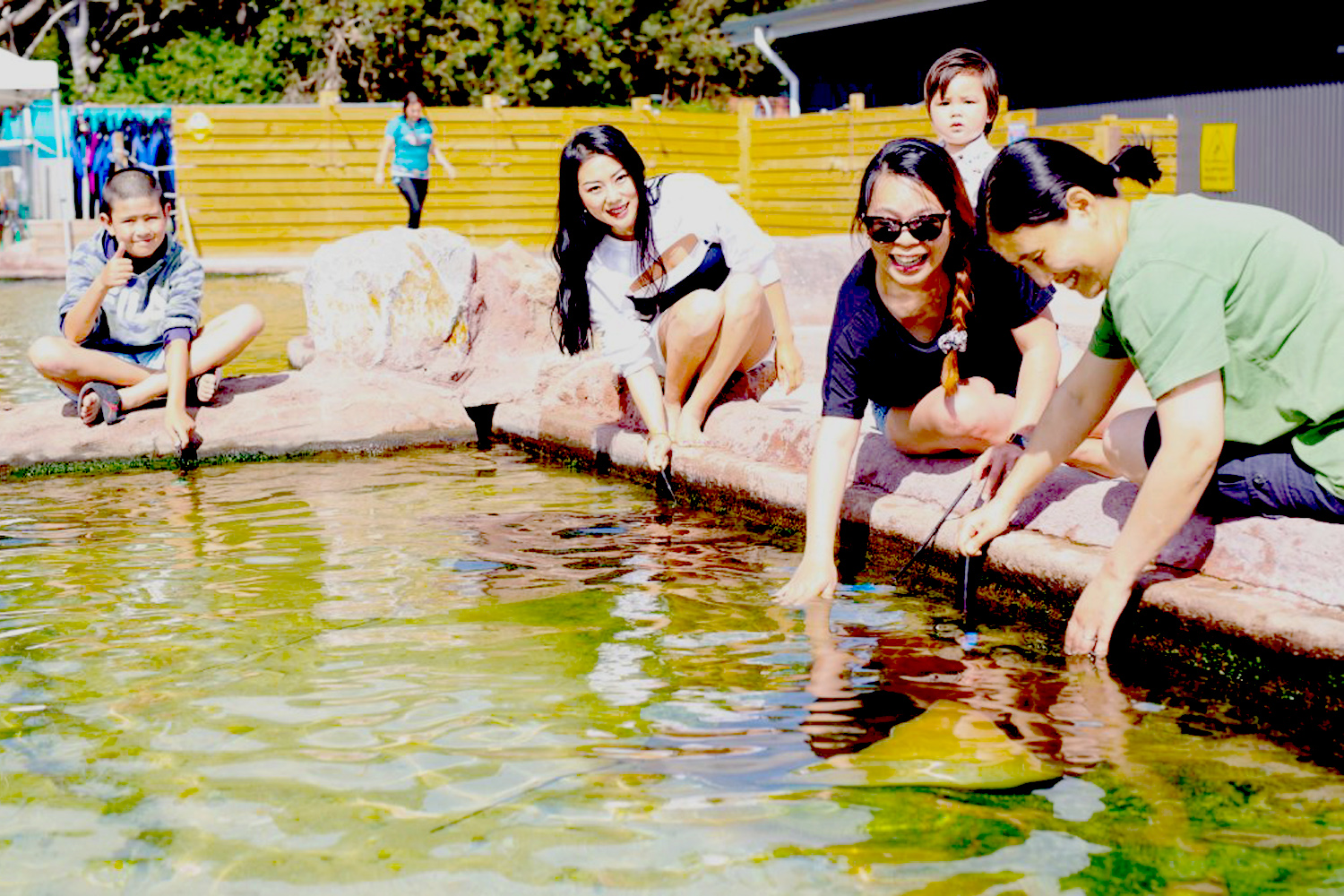 Entry to Irukandji is a unique, unlike the usual aquarium viewing through glass guests have the ability to meet the wildlife, pet them and feed them with provided included food at various pools.
3 Policy
Cancellation Policy
All sales are final and incur 100% cancellation penalties.